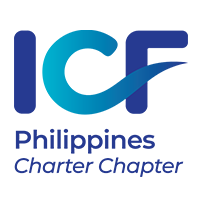 July 30, 2014 ICF Philippines Annual Meeting and Election of Officers Through Online Voting
While ICF Philippines Chapter held its Annual Meeting on July 30, 2014 and aimed to conduct the election of officers for the term July 2014 to June 2015, the chapter has implemented online elections, enabling members to vote online using the Google Form Official Ballot.
The email with the link to the Official Ballot has been sent out to ICFP members by Dino Badilla, Chairman, Election Committee 2014. ICF Philippines Chapter, on August 5, 2014. Please contact dinobadilla@gmail.com if you have any question about the online voting process.
Deadline of voting is on Monday, August 11, 2014. The online voting process will be disabled after the deadline.
ACTIVITY : ICFP Annual Meeting and Election of Officers
DATE : Wednesday, July 30, 2014
TIME : 7:00 PM to 8:00 PM
VENUE : The Forum, 4th Floor, FullyBooked, Serendra, 11th Ave., BGC Taguig
FEE : None
CCEU : 1 CCEU for ACC, PCC and MCC
NOTE : The activity is for ICF Philippines Chapter members. Join the Chapter now!