By Dennis Montecillo, ACC
In February, ICF Philippines, in conjunction with sister chapters in South Africa and Nigeria, completed its first global coaching triad sessions.
A brainchild of the Professional Development Committee, the innovative project started in November 2021 and culminated in a closing ceremony (via Zoom, of course) in February. It was born out of conversation between Kurly de Guzman, committee chair, and Vina Paglicawan, program manager, following a professional development session conducted on ethical practices by Svea van der Hoorn of the ICF South Africa Chapter a few months ago for ICFP, where she said, "What if ….?" Sometimes all it takes is a question for a great idea to bear fruit.
Contact was made, and conversations initiated, with Svea and later on, Adaora Ayoade representing the Nigeria charter chapter of ICF. And from this was born the first-ever Philippines-South Africa-Nigeria coaching triad program.
Participating in the project were ICF South Africa, which was founded in 2013, and ICF Nigeria, which has founded in 2015. The two partners nicely bookended our own chapter. The three chapters generated participant interest from 78 coaches: 20 from Nigeria, 33 from South Africa and 25 from the Philippines. From this emerged 26 triads.
What is a Coaching Triad?
The triad format is a common method used in coach training. Participants are grouped in threes, and each takes turns acting as coach, coachee (client), and observer. Experience has shown this to be a powerful developmental tool for coaching skills, as the coaching experience is viewed from first, second and third person perspectives.
In this case, volunteers were exposed to a minimum of two sessions in each role. Session trackers were utilized, and each participant was asked to fill out a learning log.
Adeyanju Olanda , a member of ICF Nigeria, called the triad format "very powerful."
A Timely Focus
In keeping with the theme of the moment, participants were asked, where possible, to focus on the theme of DEIBSJ, that is, Diversity, Equity, Inclusion, Belonging and Social Justice. Many participants found this guidance to be extremely helpful as it helped them start with a common referencing framework. From there it became easier as a coach to adjust your language to better suit the appropriate form of communicating with the coachee.
A Blessing from the Mother Ship
In recognition of the project, ICF Global granted the team eight CCE units in recognition of two key Coaching Competencies on ethical coaching and embodying a coaching mindset. In the words of one participant, "I observed the competencies come alive in the sessions."
Participants reported a greater awareness and open-mindedness to the influence of context and culture and were able to see past the different nationalities and cultures and conclude that, in the end, "we are all human beings; we are all coaches."
Top Ten List
From such a diverse collection of coaches from different cultures, ethnicities and nationalities came consistent aphorisms:
Coaches need coaches, too
There is so much more that binds us than what separates us
Don't push personality but be yourself
Diverse perspectives enrich the coaching experience
"Deep" listening is essential in supporting the client to move forward
Important to remain curious and continue to learn
Be respectfully curious
Invite clients to push back
From diversity is the fruit of unity
Respect the context in which the client finds themselves
The Word Cloud
In pictorializing what participants took away from the experience, the Word Cloud highlighted several powerful words: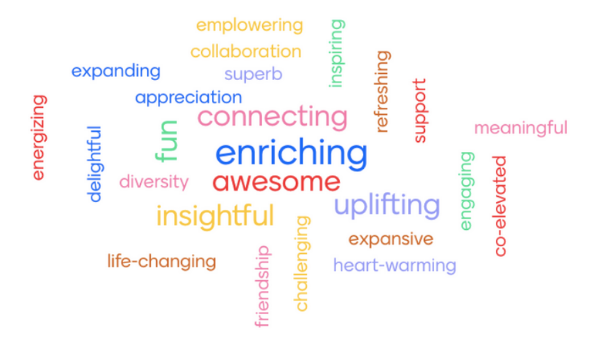 Tomorrow
Almost universally, participants from all three chapters eagerly expressed their anticipation for the next triad session. Sometimes all it takes to spice up a tried-and-true learning technique is some international spice.