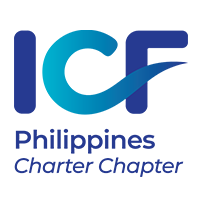 President's Message 092022
As we look back at the past 12 months, you might have noticed that it was a great time to have been a member of ICF. We can see that being a member of the Philippine charter chapter of the International Coaching Federation came with a lot of benefits. As individuals, we learned, we deepened our expertise, and we made new connections.
While there were truly many things worth mentioning about the past 12 months, it was clear that we experienced growth – growth in terms of membership, and growth in terms of our coaching knowledge and practice.
Looking at membership growth, in the middle of 2021, the pandemic was still very much a reality that we had to confront. In other parts of the world, members were holding on to their time and money as the future was uncertain. Meanwhile, this tiny chapter called the Philippines grew from 113 members to 190 members – that's a 68% growth in one year. How did this happen? There were many things that the membership team did that contributed to these numbers: the committee held NPS surveys, created a registration link for new members, and held member orientation sessions to ensure that each member was welcomed properly. The membership committee also collaborated with other committees to encourage networking and learning. While it's true that the numbers grew, something else was growing. And that was the sense of oneness and community in the chapter. And for this, we acknowledge Lea Ungson and the members of the Membership Committee
You might have also noticed that the Viber group of the chapter was buzzing with activity. There were learning sessions, peer coaching triads, coach huddles and the celebration of the International Coaching Week. For simply being a member of the chapter, you had access to so many CCEUs or continuing coach education units – 6.6 in core competencies and 13.75 in resource development. Outside of what the chapter offers, one had to pay dearly for every single CCEU.
Going beyond the numbers, our members heard from both local and international speakers who were experts in their field. It was also great to see that some of those speakers were our members, yet another proof of the growing sense of community. And for these, we acknowledge Kurly de Guzman and the members of the Professional Development Committee.
On top of the many learning events, we also had two firsts – the first ever virtual coaching summit (Transforming the Future of Work) with 181 participants from here and abroad, and the country's first ever PRISM awards where we had 3 finalists. And for pulling off this miracle, we acknowledge Katherine Limjoco, Ina Teves and Kurly de Guzman.
Another milestone worth celebrating is that we have a record number of coaches who participated in the pro-bono efforts of the chapter, the recipients of which were Acacia School and FEU-Nicanor Reyes Medical Foundation. Can you imagine the ripples that were created when people who typically don't have access to coaching such as public school teachers and hospital frontliners are given the chance to experience professional coaching? The testimonials from the coachees were truly moving, and further validated that as coaches, we help bring about peace and enlightenment to the lives that we touch. And for this we thank Anda Goseco, Tina Sioson, Binky Kolayko and the other members of the Community Relations Committee.
It's also great to see that more and more of our members are getting credentialed. We started the year with 36 credentialed coaches, and now we have 70. That's a 94% increase in the number of credentialed coaches. We had a team working to demystify the credentialing process and to make it possible for our members to earn their ACC or to move up to a higher credential. And for this, we thank Edlyn Ng and the members of the credentialing committee
With all these activities, we had to have good PR support. Our Public Relations Committee empowered the other committees to create, plan, and post their own content on our social media channels. From Facebook and Instagram, we also invaded Linked In where we were able to reach more professionals. And for this we thank Jeng Macalagay and the members of the PR Committee.
We also had a research committee that did some initial work on compiling information that would be beneficial to our members. We thank Elmo Alforque for doing that.
One very important reason why our committees accomplished a lot is that we had elected officers who guided, supported and empowered our committee heads. And of top of that, they also rolled up their sleeves and personally did a lot of hard work. They also routinely produced miracles when needed. We acknowledge our elected officers Katherine Limjoco, Jackie Caniza, Ina Teves, and TJ Nadres.
It's been said that most great achievements happen when we step on the shoulders of giants, or build on the successes of the past officers who came before us. If we were to take a look at the recent history of the chapter, we see that the successes we experienced in the past year were built upon the work done by several officers from previous terms. I acknowledge Jen Ocsena, our president from two years ago who had a very strong focus on
membership growth. Looking a couple more years back, we see former president Paui del Rosario fighting for the chapter to reach charter strength, President Mai Gorrez continuing the growth, and President Alma Horn taking on the monumental task of holding the country's 2nd coaching summit. And going back in time to where it all began, we exist because our founder, MCC Julius Ordonez, dared to dream of having a Philippine chapter. All the other past presidents continued that legacy such that our Philippine chapter still exists today, and we thank all of them for what they did. Thank you to all of you who have been or still are a part of the organization. We're looking forward to another amazing year with Katherine Limjoco as president.