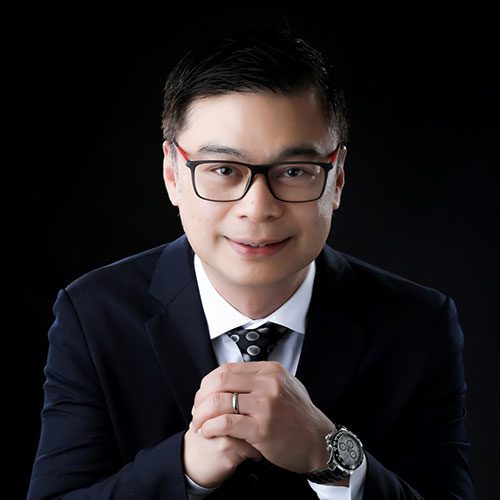 The American patriot Thomas Payne is known for the famous saying, "These are the times that try men's souls." Indeed, the current environment seems appropriate for the invocation of such a statement.
A recent PwC survey indicated that 7 of 10 managers have experienced at least one crisis in the last five years, with the average being three. Each of them, we are sure, will admit that, at the time at least, at each of the crises they experienced, it felt like "the worst ever."
We turned to our past presidents of ICF Philippines to help us provide context to times of crisis such as we are facing today. During coaching week, you will be able to read their candid and insightful musings and responses. Today we feature Julius Ordonez, our first and founding president.
Tell us about yourself today as a coach and how you got here
As a pioneer of professional coaching in Asia, I have become a "go to person" for anything that's coaching-related. For more than 20 years now, I have been providing 1:1 executive coaching, training leaders on ICF coaching skills, coaching teams and helping companies build a coaching culture, across the globe. I have been training and mentoring aspiring and experienced professional coaches and my ICF-certified coach-training program has already produced hundreds of professional coaches from around the world. I have led the largest professional coaching body in the region – Asia Pacific Alliance of Coaches (APAC) – serving as its President for two years in my desire to promote and advance the practice of professional coaching in the whole of Asia Pacific. At the global level, I served as a Subject Matter Expert (SME) for ICF Global in a project that led to the update of the ICF Core Coaching Competencies. Through my company, I initiated a groundbreaking coaching study that provided insights on the landscape of coaching in the country. I can comfortably say I have "been there, done that" but the truth is I am not done yet. My mission to bring the gift of coaching to more people goes on. In fact, my company just recently embarked on a Coaching Advocacy Program that seeks to make coaching accessible to everyone, providing different types of coaching.
How I got here? I would like to believe that I was called and led to this mission of bringing the power and value of coaching to individuals and organizations. This compelling mission drives me to continuously invest in my personal and professional growth so I can best serve my clients and be an active mover of the coaching profession. Looking back, I can say that my passion and love for coaching got me to where I am today.
What is an interesting fact about yourself that people probably don't know?
I am the youngest in the brood of 7. I lost my father when I was 2 months old. My mother, who was a public school teacher raised us by herself. Growing up, I experienced a lot of hardships and difficulties that made me tough, independent, resilient and driven. My family ate "grit" for breakfast and I have nothing but admiration for my mother whose strength, selfless love and hard work managed to feed us and send us all to school. All 7 of us turned out to be successful.
Describe your time as founding president of ICF Philippines.
When I founded the ICF Philippines Chapter, coaching was largely unheard of in the Philippines and coaching literacy was almost zero. I had to start from scratch. My biggest challenge was how to educate individuals and organizations about coaching and convince them that it works. Together with my team, I conducted numerous free learning sessions and did "live coaching" demos to convey my message that coaching is transformative and powerful. I have encountered non-believers, skeptics, and detractors but this made me persistent even more.
A brief history of the founding of our Chapter best describes my time as the founding president. I first contacted the ICF to signify my interest in establishing an ICF Chapter in the Philippines in April 2002. I got the approval and signed the Chapter Agreement with the ICF on December 13, 2002. I thought it was as easy as that but it became a daunting task. We started educating people about coaching, partnering with PMAP and PSTD, and a few companies like Sunlife, San Miguel, and Jollibee to promote our cause. We were doing well, but in 2005, I left for the US and since nobody took my place as a Chapter Leader, the Chapter died a natural death.
In 2008, I contacted ICF to revive the Chapter and I was given the go signal if I could get five ICF global members listed under the Philippines who should be formally trained practicing coaches. Getting five members during that time was a stretch goal considering that awareness of ICF coaching was very low and practicing coaches were only a handful. I had to negotiate with the ICF to allow us to recruit members who were not yet professionally trained. My request was granted provided our members could get formally trained within the year; otherwise, they would not be able to renew their membership. The task became more difficult because I didn't only have to recruit members, but I also had to convince them to get their coach training. What followed was a year-long series of public awareness campaigns, pro-bono learning sessions, and intensive recruitment with the help of my team, Benchmark. Our sacrifices and hard work paid off and in 2009, ICF reported 7 global members from the Philippines, exceeding the required 5 members.
The Chapter had been revived!
As a strategy to continue to increase membership, I lobbied with ICF Global to allow us to recruit "temporary Chapter members" for a year. My objective was to make these members experience being with the Chapter and would hopefully encourage them to become global members. My request was approved yet again and in 2010, our membership rose to 30! While we only had 12 global members and the rest were temporary Chapter members, I was determined to form a critical mass of members who would attend meetings regularly and consistently so membership would stabilize. This would also enable the local chapter to identify a core group and elect a new set of officers and choose someone to succeed me as President.
In 2011, however, ICF Global changed its membership policy and chapters were now required to have at least 20 current ICF global members to continue operating as a Chapter! This made it even harder for ICF Philippines to continue existing as a chapter. But I was determined. We doubled our efforts to convince our temporary members to join ICF Global. Our efforts bore fruit as more and more members came to see the value of ICF membership. Eventually, we managed to surpass the minimum requirement of having 20 members. We then identified a core group and elected a new set of officers with Luchi Vitales as President-Elect. And the rest, as they say, is history.
What was the single most pressing crisis that occupied your mind during your time as president?
Forming the Chapter at a time when ICF coaching was unheard of and making it fully operational and stable was in itself an overwhelming challenge. It was not as easy as forming a group and expect it to grow and thrive on its own. I went through hardships and sacrifices to effectively create public awareness and change people's perspective about coaching, deal with the non-believers and detractors, persistently recruit members from a shallow pool, consistently engage members so that they stay on, take care of a team of volunteers so they won't leave, meet the ever evolving requirements of the ICF while spending from my pocket for years and giving up my own personal time.
My toughest hurdle then was how to sustain my own enthusiasm, focus, patience and determination because I was doing all these on top of my work and personal responsibilities. It tested my leadership in getting people to commit and engage because I saw members and volunteers come and go, and my biggest fear was losing the most committed ones. It was a test of my commitment to the profession as well as my love for coaching. Of course, the thought of giving up crossed my mind several times.
How would you compare that challenge with the current pandemic that we are dealing with?
There are similarities and differences. Both challenges evoked "do what it takes", strategic resilience, creativity, focus, and mental toughness to make things happen and to effect change. They both evoked innovative ways of thinking and doing as well as in dealing with people.
The current pandemic evokes anxiety, fear, frustration, anger, anguish, grief, and even depression that can get us stuck when not managed well. Our situation now puts our mental, emotional, physical and social health at risk. It also threatens our livelihood and overall survival. It can drain our emotional energy that can lead us to fatigue. Staying hopeful and exuding positivity is a day-to-day struggle for some people.
Establishing ICF Philippines was more of a "positive, energizing challenge" for me. It was time-consuming and tiring, yes, but it evoked more excitement and thrill, especially when I was seeing the fruit of our labor.
As a leader yourself, what theme would you build on for today's environment? What message do you have to all coaches on Defying Challenging Times?
Personally, "humanity" is the overall theme for today's environment. As leaders and coaches, it's our ability to love and have compassion that needs to be exhibited, first and foremost. People need support, empathy, sympathy, care and understanding as they fight their own battle that this pandemic has brought upon them. Today's situation invites us to be more generous of ourselves – our time, talents and resources. It's the best time to "give" without expecting anything in return.
We are all called to be humane and this requires us to go beyond what we see. We don't simply judge people just because they didn't meet our expectations. We need to genuinely listen and see things from their context so we understand them fully. And when they are not comfortable speaking their truth, we create a safe space for them to be truly vulnerable. Allowing them to vent their thoughts, fears and worries helps them achieve clarity that empowers them to think and act with renewed optimism, confidence and courage.
This is not new to us professional coaches as this is exactly what we do. But this pandemic is a reminder of how much we give of ourselves while we are also dealing with our own personal concerns and overcoming our own fears.
In defying the challenging times, our job is to take care of ourselves, first. Self-care physically, mentally, emotionally, and spiritually must be a top priority. We make people think and act differently and inspire them to transform themselves. Our challenge is to do the same for ourselves and we can only this if we lead ourselves effectively.
Always remind yourself to love yourself and love yourself more. Pamper yourself if you must. Reach out to our fellow coaches and ask for help if necessary. Coaches need coaching too. This is one of the reasons why our Chapter exists – to have a community of support. When we have total wellbeing, we can successfully defy challenges and be in the best position to help our clients to do the same.